Stewart Painting, Inc, complies with the EPA's Renovation, Repair and Painting (RRP) Rule, as well as the Massachusetts Department of Labor Standards (DLS) Lead Program Rules. Our firm and its crew leaders are LEAD-SAFE CERTIFIED under the RRP and DLS Rules. Additionally, we have taken it a step further and have become certified in Moderate Risk Deleading.
It is a Federal Law that all painting and carpentry contractors in the US are EPA LEAD-SAFE CERTIFIED. The RRP Rule applies to homes that were built prior to 1978.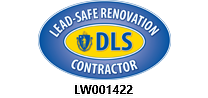 We are proud to be a Certified Lead-Safe Firm by the Environmental Protection Agency (EPA) and DLS. The Lead-Safe Certified Firm Logo identifies Stewart Painting as certified under the Renovation, Repair, and Painting (RRP) Rule. This means we take every precaution when dealing with products or environments that may contain lead, and ensure that our crews, our clients, and the environment are all safe and protected. We have years of experience dealing with all types of lead paint, and know how to properly handle materials and equipment.
Deleading & Lead Safety
Lead poisoning is a major, preventable environmental health problem for both children and adults. In children, it may cause developmental problems, lower IQ, behavioral problems, language delay, anemia, damage to the nervous system and other problems. High lead levels in adults can cause high blood pressure, headaches, memory problems, kidney damage, irritability, difficulty sleeping, nerve disorders, muscle or joint pain, and damage to the reproductive system. Public health problems related to lead poisoning results in billions of dollars in health care costs to taxpayers and the government. Although bans on leaded gasoline and paint have greatly reduced the incidence of dangerous lead levels in children, many children are still at risk for damaging lead exposure. Lead paint and the related dust and chips are the leading cause of high lead levels in U.S. children.
The EPA's Lead Renovation, Repair and Painting Rule (RRP Rule) requires that firms performing renovation, repair, and painting projects that disturb lead-based paint in homes, child care facilities and pre-schools built before 1978 have their firm certified by EPA (or an EPA authorized state), use certified renovators who are trained by EPA-approved training providers and follow lead-safe work practices.
The goal of the Massachusetts Department of Labor Standard's (DLS) Lead Program is to reduce the incidence and severity of lead exposures for the Commonwealth's workers and other members of the general public. DLS accomplishes this goal by administering and enforcing standards for renovation, repair and painting carried out in older homes and child-occupied facilities that may contain lead paint as well as for deleading operations. DLS also administers the Occupational Blood Lead Registry, which tracks elevated blood lead levels among adults, provides educational counseling and guidance to workers, and through its medical consultant, offers advice to physicians on the medical management of lead poisoning.
The Lead-Safe Certified Guide to Renovate Right: https://www.epa.gov